Packaging plays a role of a marketing tool, stimulating clients with its look and marketing message to buy the product. That is why it has to emphasize the nature of the product, make it stand out from the competition, protect from the effects of external factors. The biggest construction and marketing possibilities are given by cardboard packaging. If you want your product to be more visible, trust our experience gained for almost 20 years.  Your product deserves the right visuals, that combine quality and affordability.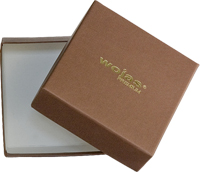 We particularly wish to draw your attention to custom made packaging, for which we are one of the leading manufacturers in the country. We have a state-of-the-art production line, that allows us to produce packaging mainly used for games, puzzles, luxury footwear and used as an elegant addition to the gift. A wide range of paper and colors, the possibility of laminating and gold foiling of the lining during the production process allows to obtain packaging that, up until now, used to be available only abroad. Gained experience and cooperation with the biggest paper suppliers from all over Europe allows us to lower the costs of production, which makes our offer even more competitive. 
A wide range of tooling of our production line allows us to produce packaging of minimum dimension of 125 x 125 x 25 mm and maximum of 550 x 300 x 115 mm, custom made, according to the client?s requirements, E-flute or solid fiberboard with minimum weigh of 600 g/m2.